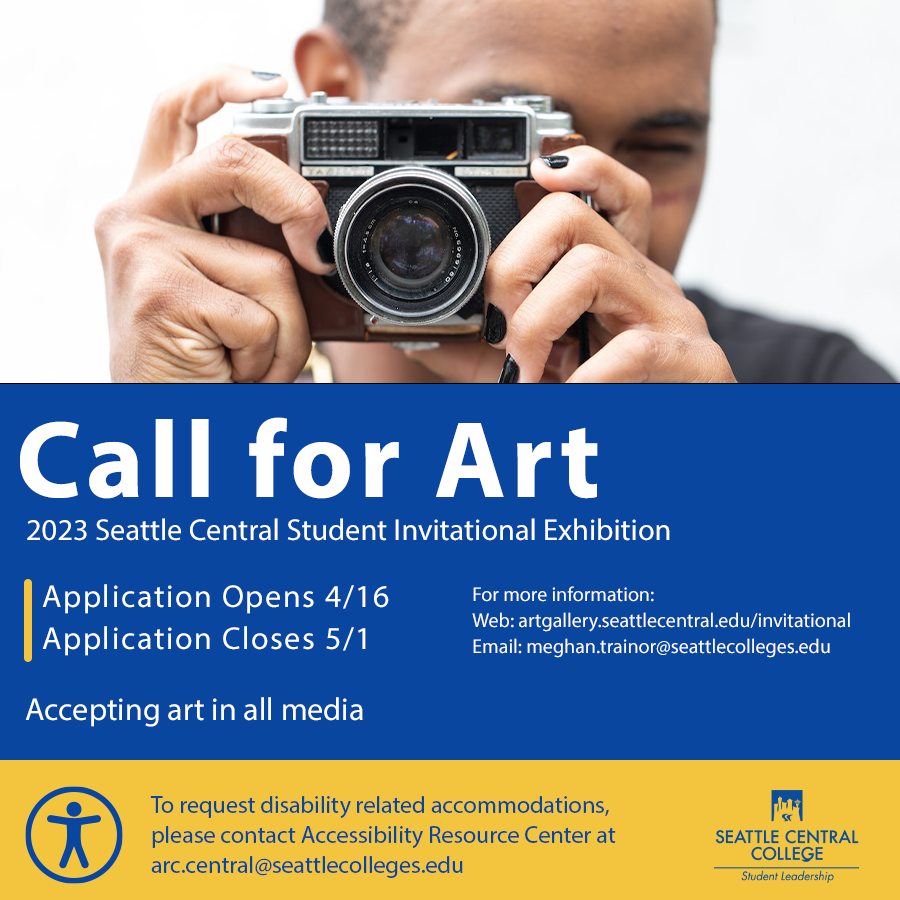 2023 Seattle Central Student Invitational Exhibition
Submissions are by due by Monday, May 1, 2023
The M. Rosetta Hunter Art Gallery is looking forward to our annual juried exhibition of student artwork in the 2nd half of Spring Quarter.
Who is qualified?
Seattle Central students registered for 3 or more credits during 2023 Spring quarter, enrolled in ABE or Basis Studies courses, or enrolled in Continuing Education classes qualify to enter for a chance to be featured & win prizes.
We will be accepting work in all media: Drawings, Paintings, Prints, Photographs, Sculpture, Video Art, NFTs, are all accepted.
If you have an artwork that does not fit any of these categories, particularly installation or performance art, please contact the Curator at meghan.trainor@seattlecolleges.edu directly before applying to see if we can support this work in our gallery.
++
Event info:
2023 Seattle Central Student Invitational Exhibition
May 22 - June 8, 2023
Opening Reception/Art Party: May 25, 2023, 4-6pm after Seattle Central College Unity Fair
Read more about the 2022 Student Invitational in this Seattle Collegian article by Sarah Wheeler.
++
Full Non-Discrimination Statement
Seattle Colleges is committed to the concept and practice of equal opportunity for all its students, employees, and applicants in education, employment, services and contracts, and does not discriminate on the basis of race or ethnicity, color, age, hair texture or protective hairstyles, national origin, religion, creed, marital status, sex, pregnancy, gender, gender identity, sexual orientation, gender expression, status as an honorably discharged veteran or disabled veteran or military status, political affiliation or belief, citizenship/status as a lawfully admitted immigrant authorized to work in the United States, or presence of any physical, sensory, or mental disability. In addition, reasonable accommodations will be made for known physical or mental limitations for all otherwise qualified persons with disabilities. Further, Seattle Colleges is committed to ensure that all employees and students work and learn in an environment that fosters mutual respect and professionalism, free from all forms of "bullying" behaviors, including "cyber bullying."

General Submissions
If you are a visual artist or curator from the Pacific Northwest whose work aligns with the mission of the M. Rosetta Hunter art gallery at Seattle Central College feel free to propose an exhibition.  We are not actively seeking submissions for this academic year but may consider work for future exhibition schedules. 
For questions, contact gallery curator Meghan Trainor meghan.trainor@seattlecolleges.edu