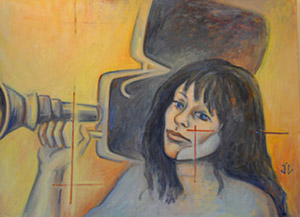 Judith Larsen: Frontline Heroines
March 10 through March 25, 2015
Artist Reception: March 11, 5-8 p.m.
Judith Larsen's Frontline Heroines series honors the courage and professional dedication of female journalists, human rights workers, and social justice advocates who have been killed in the line of duty. Ms. Larsen's portraits in watercolor and in oil memorialize the lives of women who paid the ultimate price for exposing truth, struggling for change, and questioning power.
For generations, journalists, were considered neutrals rather than targets. But lately, journalists are targets, either in war zones or at the hands of thugs hired by dictators or drug lords. The International Press Institute reports that over 735 journalists were killed in action between the years 2000 and 2009. And since then, according to Reporters Without Borders, the number of murdered journalists has increased each year throughout the world.

As a painter and a reporter in both radio and television for the past twenty years, I wanted to use my craft to honor professionals who gave their lives while serving as our witnesses, our window, to the dangers of despotism, human rights abuses and of war. They have helped protect the freedoms so many of us take for granted, but at what price?
top left: Marie Colvin (1956 - Feb. 26, 2012)
middle left: Neda Agha Soltar (1983 - June 20, 2009) 
bottom left: Anna Politkovskaya (1958 - Oct. 7, 2006) 
top right: Margaret Moth (1951 - March 21, 2010)