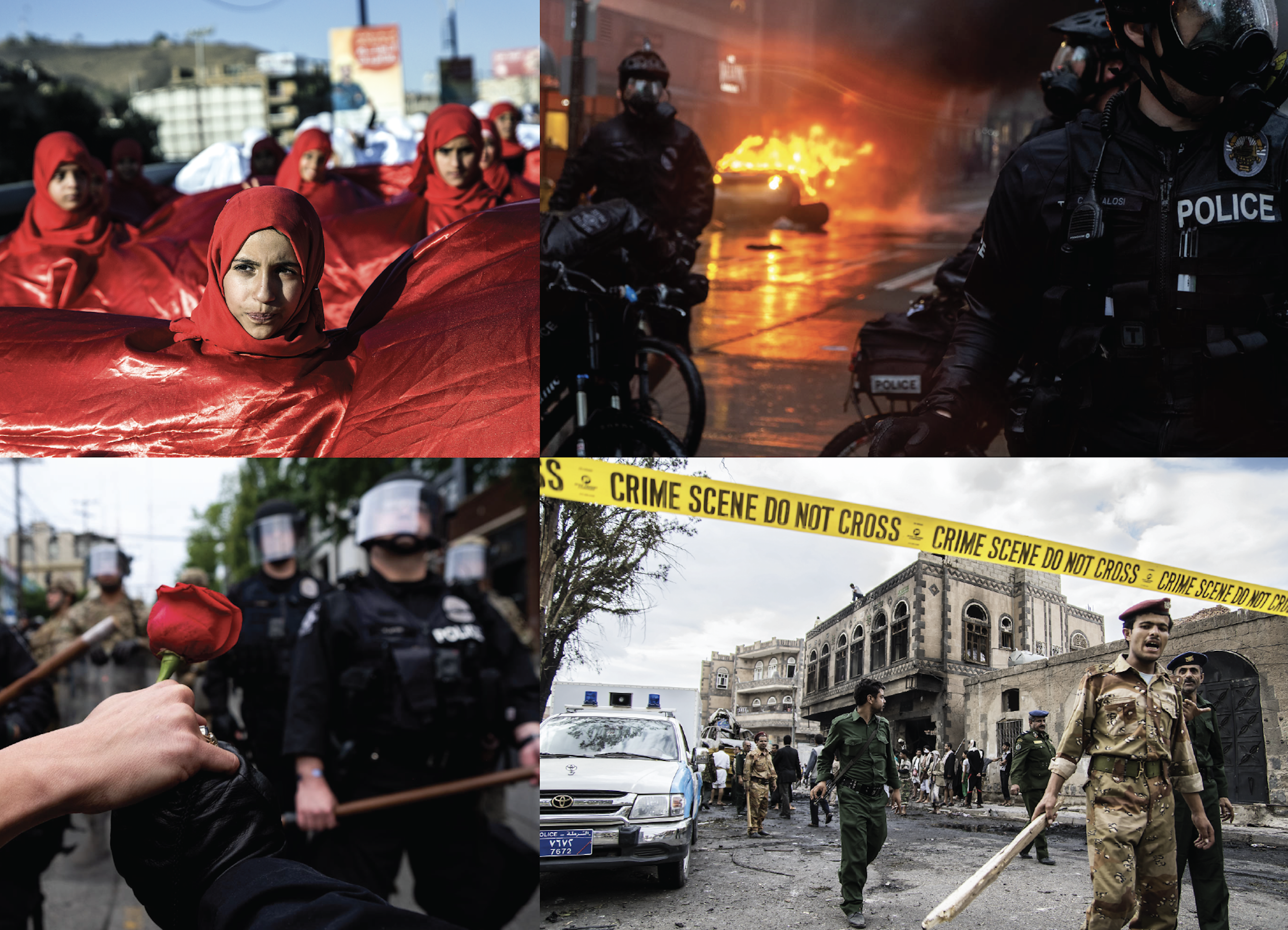 Love & Resistance: From Yemen to Seattle
The Photographs of Luke Somers and Jordan Somers
June 28 - August 18, 2022
Opening Reception, July 14, 4-7pm
Summer Gallery hours:
Tuesday & Wednesday 10am - 3pm
Thursday 10am - 6pm
In February 2011, Luke Somers moved to Sana'a, Yemen to teach English.  Within a month of arriving, the Arab Spring had officially begun in Yemen, and Luke was suddenly immersed in the unfolding revolution.  Luke, having a high propensity with writing and photography, and a love for the country, took to the streets to document Yemeni life, spending the bulk of his time in Change Square, where thousands of protesters gathered, ate, slept, told stories, and strategized.  Luke worked with an English-speaking Yemeni newspaper and freelanced for The New York Times, NPR, Al-Jazeera, and BBC, among other outlets, telling myriad intimate and pivotal stories throughout the region, from the Somali refugee crisis to a women's youth bowling tournament in Sana'a.  He played a vital role in the National Dialogue Conference (NDC), serving as a journalist, editor, and translator.  Luke was revered by the residents of Yemen and was often regarded as one of their own.
In September 2013, Luke was abducted by armed tribesman on a busy street in the center of Sana'a.  His mother Paula and brother Jordan began working with the FBI and the American government, which quickly became an unnecessarily traumatizing ordeal.  Luke's whereabouts were supposedly unknown for eight months until the FBI revealed a hostage video proving that Luke was alive.  Another video surfaced in November 2014, showing Luke looking healthy and taken care of.  In late November, the U.S. government went on an unannounced raid that would fail in rescuing Luke.  A video of Luke with his head shaved surfaced days later, released by Al Qaeda, saying that his "inevitable fate" would be met if no demands were met in three days.  The U.S. Government never disclosed to Jordan and Paula what those demands were.  On the second day, as Jordan and Paula worked tirelessly with all of their resources to bring Luke home, the U.S. Government went on a second unannounced raid that got him shot and killed in the process.
After years of grieving and healing, Luke's brother, Jordan, has since taken up photography and videography, in some ways mirroring his brother's footsteps, seeking to tell people's stories and to reveal the humanity found in all of us, both near and far. During a two-year Visual Media program at Seattle Central College, Jordan took to Seattle's streets to document the unfolding Black Lives Matter revolution which had erupted after George Floyd's murder at the hands of the police in 2020. The ongoing cries for change (which are still alive today) served yet another reminder of a ubiquitous, deeply embedded systematic racism and corruption that impacts the lives of those who have struggled to find a voice and place of equality. 
In combining these two times and worlds, Jordan and his mother, Paula, hope to bridge a gap in understanding the ongoing fight against systematic oppression and to acknowledge the inherent source of love and unity that binds us all.
The opening reception will feature speakers from the Seattle and Yemeni communities along with photographer Jordan Somers.  Seattle-based and Yemeni refreshments will be served.