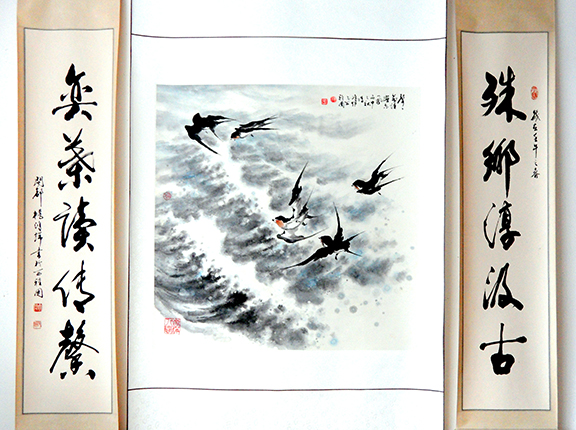 Selected Works of Chinese Painting by Master Hongduan Yang and Students
April 30 through May 24, 2018
Opening Reception May 2nd, 5-7 p.m
This exhibition highlights the connection between a master and his students, demonstrating the high level of skill, technique, and artistry achieved through years of collaboration.
Master HongDuan Yang is a renowned practitioner of Chinese painting and calligraphy. His work graces Chinese embassies worldwide, with one of his masterworks traveling into outer space as part of China's National Space Program. Master Yang has tirelessly promoted cultural exchange between China and the West, cultivating an appreciation for traditional Chinese art.
Master Yang offers classes through Seattle Central's Continuing Education program.
top left: Gliding Above All by Master Yang
mid left: Living Beside the Blessed River by Vivien Tye
bottom left: The Nobleman of Flowers by Syvia Hang
top right: Sea Swallows by Master Yang